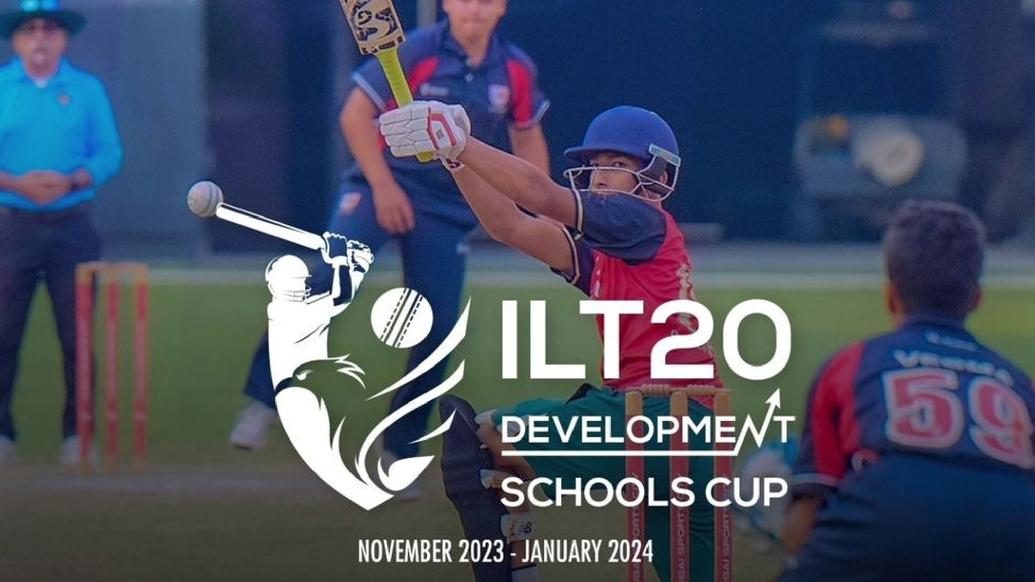 Dubai, 8 November 2023: The International League T20 has launched a schools cricket programme in Abu Dhabi, Al Ain, Dubai and Sharjah – the ILT20 Schools Cup. The programme is aimed at encouraging and promoting the sport of cricket in schools with a long-term vision of identifying talent at a young age and investing in the future of UAE cricket.
This programme establishes a direct channel of the DP World ILT20 to UAE's young and aspiring cricketers and provides them with a platform to show their talent. A total of six pools have been created for this competition. The six DP World ILT20 franchises Abu Dhabi Knight Riders, Desert Vipers, Dubai Capitals, Gulf Giants, MI Emirates and Sharjah Warriors have been assigned a pool each.
The programme has been organized for under 18 players. A total of 35 schools are competing for the ultimate prize and title – ILT20 Schools Cup Champion. One team from each of the six pools, will be progressing to the final stage of the competition. The programme commenced last week and will conclude just before the start of DP World ILT20 Season 2 – Friday, 17 January.
Meanwhile, as an extension of the programme, before the start of each DP World ILT20 Season 2 fixture, school and cricket academy kids (seven to 10 years) will get an opportunity of playing soft ball cricket matches on the field. This pre-match activity will last for around an hour each day and will provide the kids an incredibly exciting opportunity of taking the field at three world-class stadiums in the midst of their favourite cricket players and heroes with their families watching them from the spectator stands.
DP World ILT20 CEO David White: "The International League T20 is all about shaping the future of UAE cricket. Following the big success of our inaugural development tournament, we are delighted to launch the ILT20 Schools Programme. The ILT20 Schools Cup is aimed at providing school children an incredible opportunity of playing at our three world-class venues, which have hosted some of the biggest cricket tournaments and players over the course of their rich history. Through this initiative we are engaging with schools in Abu Dhabi, Dubai, Sharjah besides other UAE emirates. All our six franchises are working closely with us. Hundreds of school children will participate in the programme and we are confident that many of them will take up the sport as their passion and potentially as a career. By participating in this programme for the next couple of months, these children are likely to fall in love with this great game of ours just like billions have from around the world."